Characteristic features of ABNOX Metering Valve C-Series
Ultimate process reliability at lowest dosage volumes – made possible by the new ABNOX Valve AXDV-C1. It allows accurate placing of minute quantities of your complex lubricant on your device. Precise and clean application at high repeatability means permanent saving of your expensive lubricant!
Sensors to monitor the position of the grease piston may be retrofitted at any time. They increase the effectivity and reliability of the greasing operation, and allow improved control over your production and assembly process.
The electronic position switch is available as accessory, Art.-No. 0001220. It may be attached to the grooves of the metering valve by means of an attachment screw in a continuously variable position. Furthermore, the operation display (LED) indicates the end position of the grease piston. To achieve highest process reliability, ABNOX recommends the use of position switches on both end positions.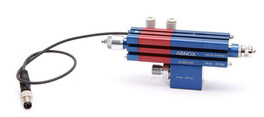 The volumetric metering valve has a continuously screw-adjustable dosage chamber, as well as an integrated pneumatic cylinder to control the dosage pin.
As a new feature, a special wrench is now used to lock the adjustment screw. Accidental misadjustment of the dosage volume is therefore a matter of the past.
For external control, a simple pneumatic 5/2-way valve is required.
ABNOX metering valves are equipped with modern seals and Glydrings, they warrant a long lifespan even at operating pressures as high as 200 bar. The use of pressure control valves is therefore not imperative, which is a further advantage of this ABNOX product!
Besides metering valves for various dosage volumes, ABNOX provide suitable conveyor pumps and ancillary equipment for complete solutions to your lubrication process. ABNOX also offer made-to-order nozzles for special applications upon your request.
Upgrading Options

Article No.

Quantity

Cylinder Switch

0001220

1 piece

Dispensing Tip Set

0001418

1 piece
| | |
| --- | --- |
| TECHNICAL DATA | |